Visiting wordsmiths give students a taste of the write stuff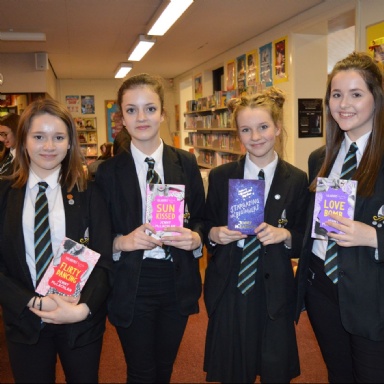 Students and staff at The Deepings School enjoyed a day of literary workshops and presentations last week when it opened its doors to four best-selling authors as part of The Deepings Literary Festival community event.
Julian Sedgwick, author of the Mysterium and Ghosts of Shanghai trilogies, treated boys in Year 7 and 8 to a dynamic circus-themed performance, while former English teacher Jenny McLachlan, author of the Ladybirds series and Stargazing for Beginners, delighted Year 7 and 8 girls with a group presentation about her experiences of life and writing.
Alan Gibbons, the author of many bestselling books such as An Act of Love, Raining Fire, and Caught in the Crossfire, engaged the Year 9 boys with his down-to-earth and humorous approach, sharing many anecdotes about his working class background and experiences.
The day's keynote speaker was former Children's Laureate, Malorie Blackman OBE, who gave a lively presentation in the school's main hall to an audience of more than 500 Key Stage 4 students, senior staff and invited guests. Malorie has written over 20 novels, including her well known Noughts and Crosses series. During the presentation she offered students a fantastic insight to the life and work of an author, and spoke passionately about her experiences and dreams - captivating the audience with her drive and enthusiasm.
All the visiting writers took time during the day to meet informally with students and staff, and sign copies of their books for young fans. Many students were so inspired that they returned at the end of day to get more books signed and chat with the authors!
Commenting on the day, Headteacher Richard Lord said: "It was very rewarding to see students benefiting from the opportunity to interact with these inspirational authors and the day was a huge success. A key role for us all as educators is to instil a love of reading in our students here at the Deepings School."