Benjamin Adlard Primary School launches micro farm to help community grow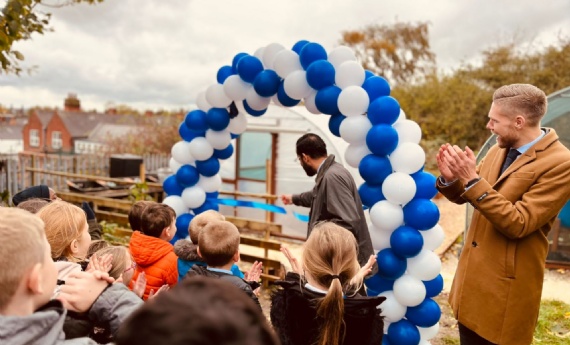 On Wednesday, 8 November Benjamin Adlard Primary School in Gainsborough, Lincolnshire, celebrated the official opening of its circular economy micro farm, a pioneering initiative aimed at providing fresh fruits and vegetables to local families.
The school, in collaboration with Lincolnshire Outdoor Learning and local partners, has established the sustainable farm to educate the children and promote social and mental wellbeing among pupils and local residents.
Funded by the North Notts and Lincs Community Rail Partnership, with a generous contribution from Neil Gentleman-Hobbs and Ashley Butterfield of Lincolnshire Outdoor Learning, the micro farm is equipped with a polytunnel, netted tunnel raised beds, a self-watering system and super composters - plus a natural vertical growing solution to facilitate a circular economy based growing system to grow food plants all year round.
This innovative project, aims to engage children in the science of planting and agriculture, encouraging them to grow their own produce and actively participate in bringing food home to their community.
Part of the school's outdoor learning programme, Roots, one of the remarkable features of the micro farm is its commitment to circular economy principles, promoting practices such as growing, sharing, reusing, repairing, refurbishing, and recycling. By adopting these methods the children are addressing pressing global issues such as climate change, biodiversity loss, waste, and pollution.
Affectionately known as 'Benjies', the school is keen to emphasise the importance of community involvement. Local horticulturalists offer their knowledge every Friday, further enriching the children's educational experience.
The farm is also home to a roost of chickens, offering a unique therapeutic experience for children who struggle to regulate their emotions. Caring for the animals provides a distraction strategy, enabling them to return to the classroom and access education more effectively.
Luke Lovelidge, Benjamin Adlard Headteacher, said: "I'd like to extend a huge thanks to our partners and funders for their vision and dedication in making our school micro farm a reality. One of our aims is to support families in need with produce boxes grown on from the micro farm.
"Children are natural gardeners and love to learn outdoors. Seeing their faces come alive as they engage in hands-on learning about planting, agriculture, and sustainable practices is truly heartwarming."
Neil Gentleman-Hobbs, Lincolnshire Outdoor Learning Trustee, said: "Projects like this aim to build lasting legacies by cultivating young minds and nutritious food within our local community, creating a genuine zero carbon zero waste model."
CEO of Anthem Schools Trust, Mohsen Ojja, who officially opened the micro farm, said: "This is a genuine example of collaboration and seeing community spirit in action. The farm will serve as a hub for education, social wellbeing, and community interaction.
"This holistic approach ensures that the pupils, their families, and community members thrive together, making Benjies the true heart of the community. It's a model that I can see will be replicated by schools across the country and I am immensely proud of Luke and his team for being trailblazers."