An approach to remote education that's collective by design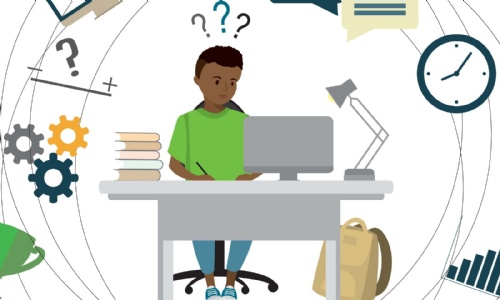 By Rachel Sewell, Anthem Head of Pedagogy and Curriculum and Vice Principal for Teaching and Learning at St Mark's Academy.
As schools closed under the first national lockdown in March last year, my colleagues and I were tasked with leading a group of 13 senior leaders from the five secondary schools in Anthem to work on developing a collaborative approach to remote education, initially for Year 10 and 12 students. It was a challenge because the schools are geographically and contextually very different, and as such had different existing Virtual Learning Environments, with varying degrees of functionality, and varying levels of student and parent engagement.
We got a commitment from everyone to work on the project for two hours per day for six weeks, and asked them to read and respond to three articles on distance learning ahead of our first meeting on Microsoft Teams. From here we co-constructed a mission statement and designed milestones for the project, before sharing these with Headteachers and our CEO for feedback and agreement. We selected Teams as our platform. We began by gathering data on student access to technology via a survey and follow-up phone calls, ready to procure devices for students in need, with an initial focus on Year 10, 12 and vulnerable students.
We then formed five working parties each with a different focus: responsive teaching, curriculum for all, IT, sixth form, and community and celebration. Each working party began by gathering a picture of existing best practice in our schools, and was tasked with designing training or advice, ready to feedback to the whole group on a fortnightly basis.
We quickly implemented a reduced three-to-four-lesson timetable for students, which mirrored in-school curriculum weighting, and designed an interim simplified lesson structure for schools who needed a clearer system quickly.
Building on our schools' existing knowledge of Rosenshine's Principles of Instruction and further shared reading and research, we co-constructed a six-point lesson structure. After much discussion, we opted to design pre-recorded voice annotated PowerPoint lessons, culminating in a carefully designed quiz to monitor student engagement and understanding, and take their views on the lesson. We designed and delivered training (on our pedagogical approach, MS Teams, and peer review of example lessons) to volunteer pilot teachers in each school. These teachers began a two-week trial with their Year 10 or 12 classes and were later used as 'bright spots' as we took their feedback, re-shaped, and rolled out the project further.
Our pilot teachers responded well to training and designed high-quality example lessons across different subjects, which can be used as we develop subject-specific cross-school training. Their challenges and questions have helped to re-shape training approaches and resources, and anecdotally, they are have to shared ideas and best practice with staff beyond the pilot groups, generating 'buzz' in our schools.
Responsive Teaching
When working virtually, our schools:
Follow the principle that planned virtual lessons are simple in their format so that learners can access them: learning is chunked into manageable tasks. Lessons have clear and stated routines, which help students to demonstrate the right behaviours for learning. We use feedback loops as a mechanism for checking learning but also for giving students the opportunity to reflect on the lesson and what worked for them.
We believe that the following steps underpin the best virtual lessons:
1. Welcome students, outline lesson goals and expectations
2. Review previous learning
3. Build understanding and model new ideas
4. Offer practice with scaffolding (opportunity for live feedback/ Assessment for Learning)
5. Further independent work
6. Obtain feedback from students to inform next lesson through ending with a quiz
This post is adapted from Rachel's chapter in Remote teacher development: a guide, published by Ambition Institute.