"My aspiration for our schools is that they are happy, mentally healthy places to learn where children thrive."
Lead Practitioner for Teacher Development, Anna Miller, shares why she believes it is vital to invest in mentally healthy schools and how her role with Anthem supports this in our schools.
My current role is diverse, it encompasses my passion for promoting whole-school wellbeing. I facilitate some elements of a Teaching Assistants' Apprenticeship within Lincolnshire, and the new National Professional Qualifications for Leading Behaviour and Culture and Leading Teaching.
As a member of Anthem's wider school improvement team, I work within several school improvement workstreams specifically linked to mental health and wellbeing.
Mobilising evidence
During my career, I have worked both within Secondary special schools and Primary settings. After 16 years of teaching and senior leadership roles, my passion for research led me, in 2017, to the post of Research Champion for the Mobilise Project based in Lincolnshire. I led clusters of schools across Lincolnshire working together exploring evidence-based research to inform school improvement within their own individual school.
Mobilise gave me a wonderful opportunity to deepen my knowledge, and gain experience leading the clusters for Emotional Health and Wellbeing, Feedback and Marking and Behaviour. I had the opportunity to work with professionals across a variety of school phases and contexts, alongside representatives from county agencies, services and mental health charities, which has been invaluable for my learning and leading the various projects across Anthem.
The Mobilise project was centred on the PLC model. I have drawn on this in my work with Anthem schools, for example when setting up the new cross-phase PHSE Professional Learning Networks (PLNs).
A focus on PHSE
The PHSE PLN supports colleagues across both our primary and secondary schools. The model is a cycle of focused online meetings with PHSE Leads from all Anthem schools. I am the Research Champion for the group and Dominique Giovannoni, Head of Lifeology (PSHE) & Citizenship and Teacher of RE at St Marks Academy, is the PLN Lead. Every meeting follows the same format - a selected research paper or journal article is shared, the group discuss and identify how key findings could be applied in their school and then there is time for individual short-term action planning. When we next meet, all PSHE Leads have the opportunity to share feedback and progress against targets set.
In my role as Research Champion, I feel very lucky to have the time to dedicate to reading and exploring the evidence-base for my key areas of focus, to include PSHE. This can be more challenging for colleagues in our schools with significant teaching and leadership responsibilities. My hope is that I am both providing support to teachers and reducing workload by supporting the PLNL (Dominique) to disseminate the key findings from the evidence in an accessible way.
It is exciting to see Anthem Secondary and Primary schools working together and sharing best-practice and ideas within the PSHE PLNs. I have seen first-hand the benefit of cross-phase working through the Mobilise project. There really is value in pulling everybody together and working collaboratively to develop our collective expertise across Anthem.
I'm passionate about the PSHE curriculum. It is vital that it is prioritised in all Anthem schools to include teaching in dedicated PSHE lessons and links made explicit throughout other curriculum areas. Our aim through the Anthem PSHE PLNs is to raise the profile of this subject and support PHSE Leads to do the best job they can to lead effective PSHE provision in their own schools.
Recognising the importance of staff wellbeing too
During 2021, an Anthem project for Staff Wellbeing began, focusing on how we might improve wellbeing for all staff across the Trust. The project aims to create a collaboratively compiled and agreed Staff Wellbeing Charter, a commitment to promote agreed principles across Anthem, that align with our values and echo what our colleagues want and need. Additionally, I hope to support an identified Staff Wellbeing Champion in each school to implement positive change. This support is driven by the PLN model in a similar way to the PSHE PLNs.
It is demanding to drive such an important project at a time when schools are facing bigger challenges than ever before and national statistics show that staff wellbeing is at an all-time low. My hope is that we can take small steps forward as we move through each element of this project. If the only outcome so far in every Anthem school is that staff are talking about wellbeing more openly, taking fewer problems home with them because they have spoken to a colleague in school, and mental health stigma is reduced, then I think that is hugely significant. The value of open dialogue and positive communication between staff should not be underestimated and might well be a springboard for further development and progress in this area.
Mental health is everyone's business
To widen the lens, creating mentally healthy whole-school communities is challenging but so important. The ongoing impact of the pandemic has brought to the forefront the importance of pupil and staff mental health and wellbeing. I hear evidence from schools that there continues to be an impact on pupil wellbeing and, as a result, behaviour. Staff are exhausted, and without appropriate support we know that some may experience mental ill-health, vicarious trauma or burnout. We are starting to see the real impact of the pandemic on our school communities.
It is important to state that we are not expecting staff to be mental health practitioners (boundaries around this are important – knowing when to refer for external support), but there is so much we can do to promote mental health and wellbeing at a universal level and to also offer some targeted support to both staff and pupils. We can look at the knowledge we give practitioners and what we can implement within the whole-school environment.
When mental health is seen as 'everyone's business', I believe we can then move forward and prioritise wellbeing to make sure that our school communities are places where everyone feels safe, supported, and ready to learn.
I'm passionate about my role and what it might be possible to achieve by working in collaboration with colleagues across Anthem with our shared aspiration that our schools are happy, mentally healthy places where children thrive.
THE KYRA Wellbeing Digest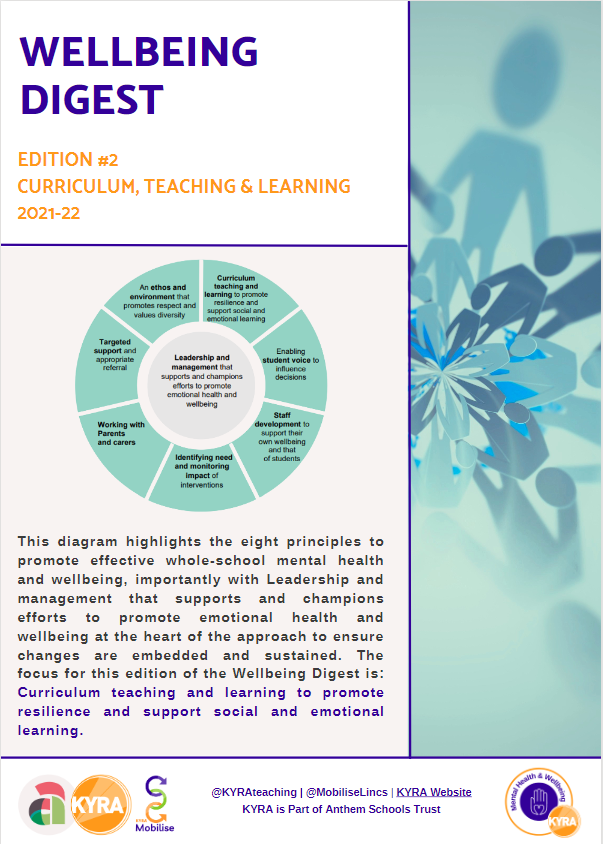 The KYRA Wellbeing Digest is a series of publications curated by Anna Miller. The series focuses on the eight principles which underpin effective whole-school approaches to mental health and wellbeing, drawing out school-based examples of great practice.