Deepings SCITT awarded 'Good' across the board by Ofsted ​​​​​​​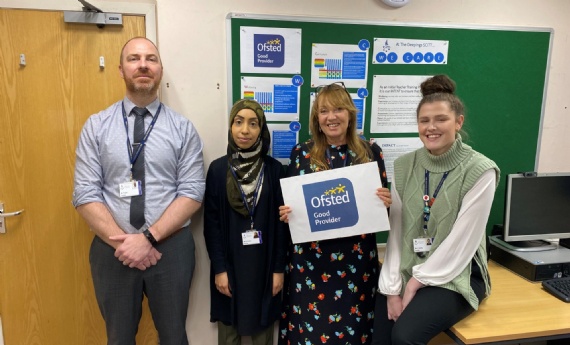 Anthem's dedicated teacher training team at the Deepings SCITT are celebrating after receiving a hugely positive report from Ofsted.
Following an inspection of initial teacher training provision in January, Ofsted found that the quality of education and training, and leadership and management at the South Lincolnshire-based SCITT were resoundingly Good.
In their report, published at the end of March, inspectors highlighted the quality of this 'rigorous' and 'comprehensive' local teacher training programme, saying: "Leaders are ambitious for their trainees. Expectations are high."
The close-knit nature of the SCITT was also noted: "Trainees strongly value the supportive relationships between staff and trainees. Many describe relationships as being 'like family'," the report said. "Trainees are well prepared to teach as they embark on their new careers."
SCITT Director Nikki Benjamin (pictured, second from right) has led the teacher training provision at The Deepings School since its inception, and is delighted Ofsted has recognised the top-quality training received by her trainees: "I have been at the Deepings School for 30 years, my children grew up here, went to school here and I am completely invested in the Deepings community," she said.
Nikki said the national teacher recruitment picture which becomes more of a challenge every year. "In England, there are now 15,000 fewer teachers than there were in 2010, and by 2024, there will be a projected 47,000 shortfall. Of course, in Lincolnshire this is magnified in sparsely populated rural and coastal settings and has been heightened by the pandemic."
Still recruiting for a September 2022 start, Nikki is happy to have chat with anyone who might be interested or offer some school experience for those who just want a taste of how life as a teacher feels. If you are a graduate you could be starting teacher training in September, with tax-free bursaries of up to £24k for shortage subjects.
There are places available for most secondary subjects as well as primary. All you need is your degree, a passion for teaching and a wish to inspire young people to fulfil their potential.