Pandemic perspectives: Simon Morley, Headteacher at Boston West Academy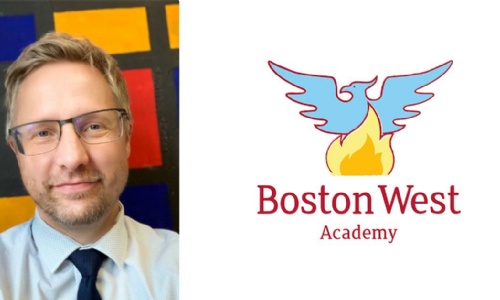 Simon Morley began his teaching career in 1997 and is now Headteacher at Anthem's Boston West Academy in Lincolnshire, an Outstanding primary school that teaches children from four to 11. The school is renowned for its focus on learning outside the classroom and has won many accolades for its work in this area. Here Simon talks about the challenges of the past year and how thinking outside the classroom has kept his pupils learning.
How did the arrival Covid-19 affect your school and community, and what impact did that have on your teaching?
One of the key drivers at Boston West Academy is 'learning beyond the classroom'. For many years, this statement has referred to our passion for outdoor learning which is deeply embedded within our school curriculum. This continues to be the case. However, the pandemic has caused us to revisit and extend our vision of 'learning beyond the classroom' to include highly effective remote education. We were very quick to embrace Google Classroom as a vehicle for providing high quality remote education within days of the first partial school closure in March 2020. Over the past year, we have continued to improve our remote education offer.
Sitting alongside this, we devised a bespoke recovery curriculum we called 'the Pathway', in order to welcome the children back into school on the two occasions we have fully re-opened to all children following a period of partial closure. Our Pathway enabled us to rebuild our school community and prepare our children once again for effective learning. The Pathway is underpinned by work around relationships, wellbeing and learning and is divided into four phases. Phase 1 focuses on engagement, motivation, excitement, comfort, reassurance and establishing routine. Phase 2 focuses on stamina and concentration. Phase 3 focuses on independence, challenge and resilience and Phase 4 is all about 'continuing to grow'.
What does your daily working life now look like?
The children are grouped into protective bubbles, which means that they only interact with other children in their own bubble. As a result, some of the things that united us as a school prior to the pandemic, such as whole school assemblies, cannot take place as they used to. Instead, I now lead assemblies remotely via video call. During these remote assemblies, the children are able to participate so that other children across the school are aware of what is going on in other parts of the school.
Every Friday, I lead a celebration assembly. I walk through the school, stopping at each classroom doorway to announce the Stars of the Week and to congratulate children who have completed their achievement cards. Another member of staff follows me with a camera so that the assembly can be broadcast to the whole school. The children love it.
It is more difficult for me to safely visit each class as I used to prior to the pandemic, but I am able to visit at the doorway of classrooms and I make sure I am spending more time with the children when they are outside.
Have you taken any positives from the past six months?
The work we have done on remote education will be invaluable for us moving forward. Homework is now all set and accessed via Google Classroom. Parents' and carers' connection with, and understanding of, their children's learning is stronger than ever before. Google Classroom will help to maintain this and provides enhanced communication between home and school. This has definitely been a positive from the past six months.