KYRA honoured with award on national Thank a Teacher Day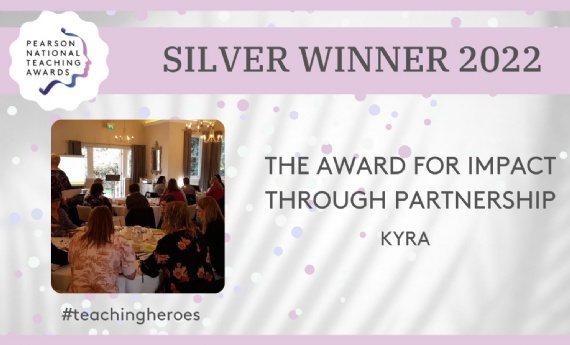 As the nation celebrates the people who make our schools so special, our colleagues at KYRA have been recognised with a prestigious Pearson National Teaching Award.
Today, 26 May, we are delighted to share the news that KYRA has been honoured with a Silver Award in The Award for Impact through Partnership category, for its outstanding commitment to changing the lives of the children through our partnership of schools. As a Silver Award winner, KYRA has now been shortlisted to win one of just 16 Gold Awards later in the year.
Celebrating its tenth birthday this year, KYRA has grown to become a thriving partnership of over 70 Lincolnshire schools who work together as a community for teaching, leadership and school improvement. It is part of Anthem Schools Trust and is the engine room for Anthem leadership and professional development.
KYRA started out as a group of school leaders working together and supporting one another to deliver excellence to the pupils and community. In 2012, Anthem's Mount Street Academy was designated as a National Teaching School and from this the work of KYRA grew.
As a Trust we are proud to be associated with this meaningful collaboration of schools, who are committed to making a difference to children and young people, values which mirror our own within Anthem Schools.
Commenting on KYRA's Pearson National Teaching Award, Anthem Chair of Trustees Rebecca Clarke said: "We are delighted to be able to celebrate KYRA today. As a Trust we firmly believe in the power and potential of purposeful collaboration. We're incredibly proud to be associated with this powerful and effective group of schools, who are committed to working together to make a difference to children and young people."