Meet our leaders: Simon Morley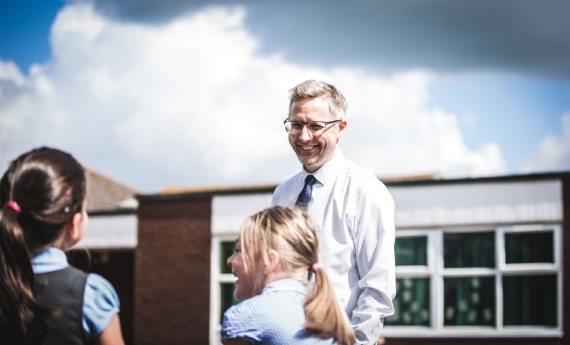 In September 2017, Simon Morley joined Anthem as Headteacher at Boston West Academy. He describes his five-year journey of headship at the school as exhilarating, with the school and Trust being inextricably intertwined.
Anthem is a values-led organisation. Our schools are diverse and serve different communities but have a shared commitment to our values of integrity, collaboration and excellence. These values resonate strongly with Simon's approach to leadership and education for the pupils in his school and during the five years of headship within the Trust, he was able to further build and develop his leadership experience and skills. He has recently joined the Anthem National Team as Associate Education Director for four of Anthem's Lincolnshire Primary Schools.
Here, Simon shares why he has valued his role as a leader within Anthem and how it has supported his career progression to his current role.
"The strength of Anthem is that headteachers are strongly supported within a deeply collaborative environment while being given the space as leaders to make decisions and focus on what really matters."
Boston West: a school thriving within Anthem, a values-led organisation
Being part of a family of schools in a strong and effective trust brings so many advantages. Having previously been a headteacher in a maintained primary school, I was struck by a sense of 'having arms around you' the moment I joined Anthem. I was provided with the support I needed to allow me to focus fully on the core business of the school, the quality of education.
I had the privilege of leading Boston West Academy, a proud member of Anthem Schools Trust. During those five years, I worked closely with school staff and colleagues within the wider organisation to strengthen the relationship between the school and the Trust. Boston West's values are collaboration, attitude, respect and equality – CARE. The Trust's values of integrity, collaboration and excellence underpin the school's values and have had a strong influence on the shape and ethos of the school. They provide a frame of reference for how we collectively work together to create ambitious and successful schools in which every child thrives.
Anthem represents a strong family of schools, bringing opportunities and development where leaders can thrive.
The Trust's values also align closely with my own professional values. It's important for me to demonstrate integrity and to be an authentic leader, I am passionate about working in collaboration with others and I am driven to achieve excellence in all aspects of my work. As headteacher, I felt very well supported and I was able to access professional development opportunities for the benefit of myself and the staff that I wouldn't otherwise have been able to enjoy.
During the five years of my headship at Boston West Academy, I was able to take advantage of numerous opportunities that aided my personal development. For example, I participated in Pharos, a leadership programme designed specifically to further develop experienced school leaders, within Anthem and KYRA, a partnership of schools. This was a wonderful experience over a period of 10 months during which I engaged in face-to-face days and learned about a variety of leadership strategies and ideas. This included: models of learning and values, coaching, personality types, strategy and implementation planning, culture and more.
Becoming an Associate Education Director was my logical next step
I applied to become an Associate Education Director with Anthem first and foremost because of my positive experience of working within the Trust and my desire to work beyond just one school. The DfE has set out its vision for all schools to be part of a 'strong family of schools'. The aspiration is for the academy trust system to be outward facing and to engage with the whole sector. This philosophy of collaboration for the benefit of all is built into my DNA. I thrive on building relationships with colleagues and have thoroughly enjoyed starting a collaborative journey with the schools I am working alongside as their Associate Education Director. My aim is to provide additional capacity and support for those schools on their relentless drive for improvement and to make a genuine difference to the children in our schools.
I am excited and optimistic about the future of Anthem moving forward. Anthem is already strong and getting stronger. I have been fortunate to be part of its journey over the past five years and I look forward to being an integral part of the next phase of this journey.