Meadow Park pupils enjoy virtual adventures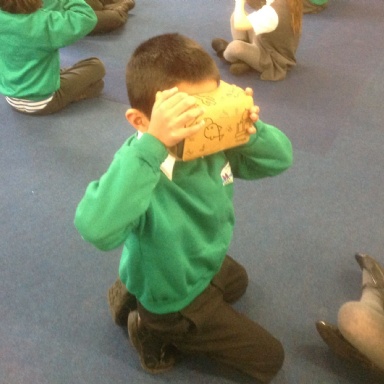 Technology giant Google selected CST's Meadow Park Academy in Reading to take part in the Google Expeditions Pioneer Program on Wednesday, 1 February.
Throughout the day, pupils went on fantastic journeys to outer space and watched sharks swimming in the oceans through Virtual Reality headsets – bringing their learning to life in an exciting, immersive way.
Each class in the school took turns to go on a Google Expedition specially chosen by their teacher to tie-in with a topic relevant to their lessons, with a technical expert on hand to help ensure the smooth running of the session. The children were given cardboard viewers holding smartphones connected to the Google Expeditions tool, and guided through their adventures by their teacher using a tablet specially provided for the day.
One pupil said the day was 'a dream come true'; while another described it as 'a once in a life time experience'.
Interim Headteacher Stieve Butler said: "This was a marvellous opportunity for our pupils to experience things that they might otherwise never get to see. They all enjoyed the day and it really helped to engage them in their classroom activities."
The experience made such an impression that Meadow Park is now looking for sponsors to buy 40 Google viewers at £5 each, and donations of 40 old smartphones for use with the viewers.
If you think you can help, please contact the school on 0118 937 5562.