Deepings exhibition puts learning on display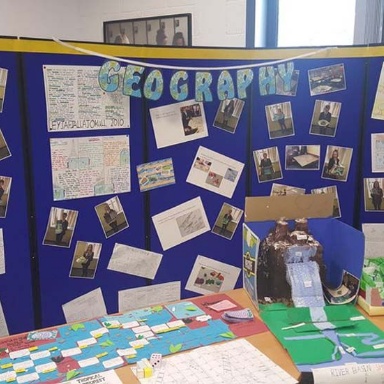 CST secondary school The Deepings has marked the end of the Spring term with a celebration of students' progress in its first ever Exhibition of Learning.
During the week-long event, students were invited to spend break and lunchtimes viewing displays of work from a whole range of subjects. Many were particularly impressed with the computer games designed and programmed by sixth form Computer Science students, while others enjoyed watching the film made by the PE department showing how students are learning in this subject.
The Media Studies work generated lots of praise for its high quality, and students spent time listening to Music GCSE composition pieces, or reading the display from History showing how a piece of historical writing is researched, drafted, marked, improved and completed.
The exhibition remained open after school to enable all staff and other visitors - including Governors, parents of Year 5 and 6 students from local primary schools, community representatives and primary headteachers - to enjoy the displays. Deepings School parents were warmly welcomed to a special evening viewing.
Headteacher Richard Lord commented: "The Deepings' inaugural Exhibition of Learning is an opportunity for us to provide a showcase for our students' work. I think that a really effective way to engage our students in learning is to create an authentic audience, giving them a sense that someone else besides teachers, parents and carers is truly interested in what they are doing. The highlight of the week for me so far has been one student saying 'I want my work to be part of next year's exhibition'. Our job within school is to provide that student with the skills, confidence and opportunities to achieve that goal."
Liz Quinn, a Regional Director at CST, said: "The Exhibition of Learning at The Deepings is impressive. Staff and students are rightfully proud of the work exhibited and it has enabled colleagues and peers to see what each other does. Congratulations to all involved."