A summer of Ofsted successes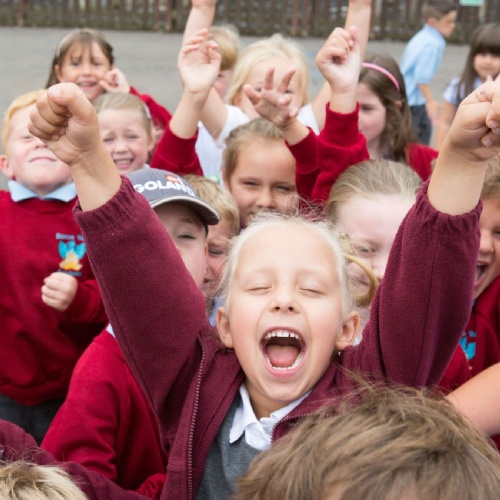 The summer term ended on a high note for CfBT Schools Trust after three more of its schools received Good and Outstanding verdicts from Her Majesty's Inspectorate.
Much like buses, Ofsted inspections seem to come all once for multi-academy trusts. Last term was no exception for CfBT Schools Trust when three schools – Oakbank, Benjamin Adlard Primary School and Boston West Academy – all received the call.
After weeks of anxious waiting, draft reports and factual accuracy checks, the schools were able to reveal to their pupils, parents and staff that Ofsted had judged them…
Oakbank School: Good in all areas
Ofsted says secondary school Oakbank, based in Spencers Wood, Reading, has made significant progress since its last inspection thanks to passionate, focused leadership that has created a strong sense of purpose and belonging among students and staff. Standards are rising and a culture of high expectations is helping the school to improve further. Oakbank was previously judged as Requires Improvement.
The ethos of mutual support and respect means staff are proud to work at Oakbank, and students behave well and work hard. "The school is a tight community. Relationships between leaders, staff and pupils are very positive and there is a warmth and generosity of spirit which shines through," says the report.
This positivity translates into good behaviour and academic progress: "Pupils behave very well in lessons and around the school," the report says. "They have embraced willingly the higher expectations of their behaviour and this is having a very positive effect on their learning and progress."
The report praises Oakbank principal Maggie Segrove, who was appointed by CfBT Schools Trust in 2014, for spearheading the school's transformation: "Her passion and vision for the school have been instrumental in bringing about significant changes. Together with her senior team, governors and support from the CfBT Schools Trust, she has systematically addressed the issues in the school which were preventing it from making stronger progress. As a result, the school is now on an upward trajectory."
Benjamin Adlard Primary School: Good in all areas
Just 19 months after being put into special measures, Benjamin Adlard has been transformed into a Good and improving school where children love to learn. In its inspection report Ofsted says strong, determined and visionary leadership has radically changed the attitudes and ambitions of pupils and staff alike.
The inspection team found that leaders and teachers have much higher expectations of what pupils can achieve and the children themselves have pride in their work and their school. The report says: "Pupils' renewed sense of pride in their school is evident in their positive attitudes to learning and the high-quality work they produce."
The report singles out the appointment of head of school Sam Coy in May 2015 as the turning point for Benjamin Adlard saying that, along with executive headteacher Marie-Claire Bretherton, he has reshaped the school's vision and united the whole school with a sense of shared responsibility.
Inspectors were struck by their 'exceptional' leadership and hub model of working, which draws on expertise from two other CfBT Schools Trust academies – Mount Street and Lincoln Carlton – as well as support from the Kyra teaching school alliance, all led by Ms Bretherton. "The executive headteacher is a national leader of education, and an inspiring and visionary leader. She has put her considerable expertise of leading effective schools to good use, developing ambitious plans and forging effective links and relationships between staff in the three schools she leads. These tight-knit, trusting partnerships have been instrumental in the school's success."
Boston West Academy: Outstanding in all areas
They create memories here that will be with them for a lifetime…
This is how one teacher summed up the experience of pupils at Boston West Academy to the Ofsted team who judged the CfBT Schools Trust primary to be Outstanding across the board.
Inspectors praised Boston West's innovative, holistic approach to teaching and learning that makes extensive use of the school's outdoor learning resources to secure excellent outcomes for all its pupils. "The visionary senior leaders have created a school garden and grounds that are highly impressive," the Ofsted report says. "Teachers make best use of this fabulous resource so that pupils have exceptional learning opportunities."
The variety of the learning opportunties, and outstanding curriculum delivered by a well-led, cohesive staff team mean that every child has an opportunity to shine, says the report. Alongside factual knowledge, pupils gain leadership, team-building and problem-solving skills that set them up 'exceptionally well' for life beyond primary school.
The inspection team witnessed pupils responding well to the positive climate for learning across the school. "They understand how the lesson is helping them improve their knowledge and skills," the report observes, after pupils recreated the lifecycle of a frog out of flowers, twigs, leaves and pebbles, saying 'this helps us to understand it and remember it much better than just writing a book'.
Headteacher Mike Schofield has, says Ofsted, successfully shared his vision for all pupils at Boston West to receive an outstanding education in the broadest sense: "The highly aspirational headteacher has created a culture where everyone is cared for and supported to achieve their best at Boston West Academy."