Blog: Our journey into the great outdoors ​​​​​​​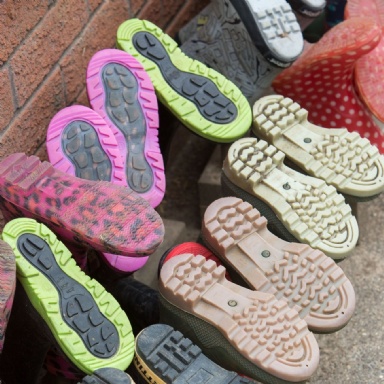 How can you transform a whole school community? In the case of Boston West Academy, you take things outside. Headteacher Mike Schofield shares the school's inspirational story.
The journey began in Autumn 2000, when I was appointed as Headteacher, a few weeks before the school fell into Special Measures. Seven key issues, including leadership, standards and behaviour, highlighted the extent of the challenge that lay ahead.
Within a strongly held belief that children learn best when engaged in a range of meaningful, hands-on learning experiences, the mission to provide our children with 'the best' education began under the banner 'Working Together for Success'.
The first step was to give pupils a voice, listen to them and respond with action in order to build their feelings of self-worth – after all, it was their school and their future.
The school grounds had great potential and were seen to be the ideal vehicle to begin changing the whole culture of the school. The children were consulted, their views considered, an Eco-Club established and an action plan produced. The work began, with Eco-Days at weekends creating wonderful occasions when the whole school community rolled up their sleeves to 'get stuck in'.
Step-by-step, over a period of years, and with additional support from local businesses and organisations, the school's Eco Warriors led a transformation of the grounds from a canvas of plain green and grey to a kaleidoscope of beauty, interest and inspiration, where pupils can relax, socialise, reflect and learn in total security. Being outdoors and surrounded by real things, with their own character and subject to all the variations of the natural world, the sun, the wind, rain, snow, is always an inspiring and liberating starting point for learning.
Our passion and determination to promote outdoor learning has never faltered – its impact on children's learning and behaviours cannot be underestimated. Activities beyond the classroom, across the whole curriculum, are now embedded in routine weekly practice and enjoyed by and influence every child in the school. Every subject is taught outdoors at some point, from core, focused learning in English and maths, to cross curricular themed activities.
LOtC Gold, seven Eco-Schools Green Flags and a host of other outdoor learning/environmental awards on from the start of our journey, the hearts and minds of children and the wider school community have been transformed – standards are high, pupils' attitudes and behaviour outstanding, parents supportive and the school oversubscribed.
Whilst eco-work continues in all its forms, it has become one important element in a much broader approach to teaching and learning; we have created an inspirational learning environment and curriculum, which has developed to include Bush-craft activities and gardening, so adding another dimension to our children's active outdoor learning experience, whilst developing their direct connection with and understanding of the natural environment. As always, central to everything we do now and as the school grows is our special word 'CARE' – for self, each other and the environment.
When Ofsted came to Boston West last summer (judging us 'Outstanding' in every category), it was particularly pleasing that the team recognised the quality of the learning environment that has been created over time and impact of our work and passion to take learning beyond the classroom at every opportunity:
The visionary senior leaders have created a school garden and grounds that are highly impressive. Teachers make the best use of this fabulous resource so that pupils have exceptional learning opportunities. One member of staff summarised the exceptional experiences pupils have when they are learning by explaining, 'they create memories here that will be with them for a lifetime'. (Ofsted, 2016)
Although there will always be new thinking, developments and projects, our work is now focused on deepening and improving our practice further, on the bedrock of experience that has brought us so far since our 'mission' began way back in 2000.
Our journey has presented many challenges but with determination and relentless hard work over many years, whilst many initiatives have come and gone and within the demands of continuous school improvement, we have kept our philosophy central to our work. Barriers are there to be broken down - what are we if we don't follow and stick to our principles and beliefs? As I frequently say to our children, if you believe, you can achieve.
I believe we have a responsibility to ensure that our children have a real connection and understanding of the natural world. The tide of technological innovation, amazing and essential as it is in the modern world, must not suffocate this and future generations.
Let's all 'Get out there' and make a difference for every child!