Ofsted grades Gladstone Park 'Good' in every way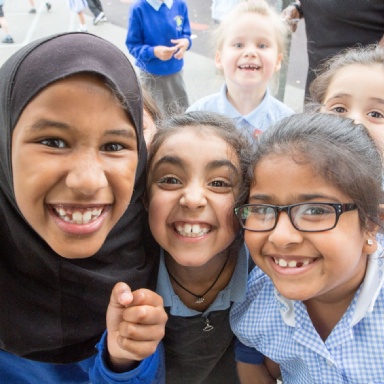 Almost three years to the day since joining CfBT Schools Trust (CST), Gladstone Park Primary in Brent, North London, has been judged Good in all areas by Ofsted following its first inspection as an academy.
Gladstone Park became part of CST in June 2014, when it was judged by Ofsted to have 'Serious Weaknesses'. In this latest inspection report, published today, the schools watchdog praises the Trust, leaders and governors for successfully setting the school 'on the right course' by raising the ambitions of pupils and the whole school community.
During their two-day visit on 9 and 10 May, inspectors found that leaders and teachers have high expectations of what pupils can achieve and the children are proud of their work and 'take their learning seriously'. Pupils progress steadily thanks to skilled teaching and a broad and engaging curriculum, with those children who need extra help receiving effective support to improve their personal and academic confidence.
This caring, ambitious approach for all pupils has created a harmonious and thriving school community where children learn and behave well. The report says: "Leaders have established a culture in which learning comes first. Academic success and the development of pupils' social skills are valued equally.
"The school's values are at the heart of its work. Those pupils who begin the school having had challenging starts to their lives in other countries, along with those who speak little or no English, are welcomed warmly into the school community. They enjoy the same support and levels of challenge as other pupils. Equality of opportunity is central to the school's work."
Gladstone Park's nurturing ethos is evident throughout the school and is, says Ofsted, a particular strength: "Staff, rightly, prioritise pupils' safety and well-being. Well-established systems provide effective support for those who have social and emotional difficulties."
Commenting on Ofsted's findings, Headteacher Angela Anterkyi said: "I am, of course, delighted with the outcome of the inspection. I feel that this outcome is a true reflection of what staff, children and parents can achieve when they work together."
Karen Walker, Regional Director for CST's London and Thames Valley primary schools, said: "We are thrilled that the Ofsted team recognised what a terrific school Gladstone Park now is. Angela Anterkyi and her team have transformed the school into a wonderful place where children flourish and thrive, developing academic and social skills that will make them tremendous members of society. Everyone in this school is valued, whatever their beliefs or backgrounds, and the school is an example of where diversity is a positive strength and asset."
CST Chief Executive Andy Yarrow said: "I am absolutely delighted for the pupils, parents and staff of Gladstone Park that their hard work, determination and commitment to achieve the highest standards has been recognised by Ofsted. As a Trust, we are very proud of the academy and all it has achieved over the past three years. The school is testament to what is possible through sustained strategic leadership and a relentless focus on developing an inclusive ethos and high-quality teaching and learning for all."
To read the full inspection report, visit www.gladpark.brent.sch.uk
See also Blog: Why counsellors have a place at the heart of our school