Ofsted sees values in action at St Mark's Academy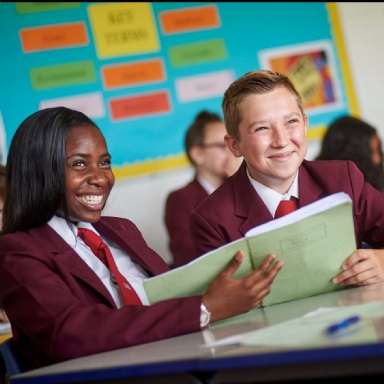 St Mark's Academy's outstanding work to promote the personal development and welfare of its pupils has won recognition from Ofsted in its latest inspection report, published today.
Judged Good in all areas following a two-day inspection on 7 and 8 November, the Mitcham-based CST secondary school impressed Ofsted for having created a supportive, respectful and dynamic environment that is 'highly enriching' and where 'pupils are confident thoughtful and articulate'.
The report says: "The school's work to promote pupils' personal development and welfare is outstanding. Leaders and teachers strongly advocate the school's core values of love, hope and trust. These values permeate the school... Pupils respect different views and said that they value their education and appreciate what teachers do for them. Pupils are proud of the inclusive nature of the school."
It adds that rapid improvements in pupils' behaviour and attendance is clearly having a positive impact on outcomes, and praises the 'strong and ambitious' leadership of Principal Lisa Peterkin, supported by senior leaders and governors, for driving these changes. "The principal is ambitious in her drive to improve outcomes for pupils. Her strong leadership has recently borne fruit with significant improvements in GCSE results in 2017," the report says.
Outcomes for disadvantaged pupils have also improved, and a strong safeguarding culture at the school ensures a safe and secure learning environment for all.
Commenting on Ofsted's findings, Lisa Peterkin said: "Our Good with an Outstanding feature is a fantastic achievement, and one that I am extremely proud of. We achieved this together, and the inspectors were able to see how far we have come since our last inspection having secured the best ever exam results this year. It is a privilege to be the principal of such a phenomenal school."
CST Chief Executive Andy Yarrow said: "We are immensely proud of the transformation that has taken place at St Mark's Academy over the past few years. This summer's GCSE results and the academy's encouraging Ofsted inspection report are among the many indicators of this improvement and reflect the hard work and determination of staff and students alike. St Mark's is determined to become one of the highest performing schools in the country; an ambition that is unquestionably within their grasp."
You can read the report in full on the St Mark's Academy website.