BBC School Report 2018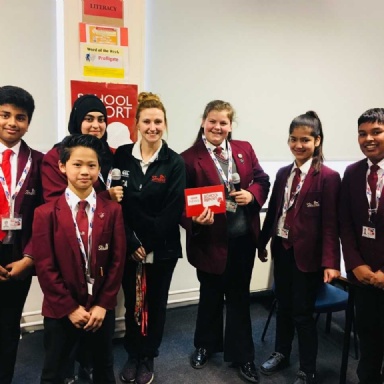 Budding young journalists have been hard at work across CfBT Schools Trust's secondary schools producing films for BBC School Report 2018.
A group of Year 10 students at The Deepings produced four reports exploring the very topical subject of the gender pay gap, and gender equality within the workplace and in society at large. They also looked at the impact of the school environment on mental health conditions, reviewed the upcoming world cup, and reflected on the life and work of the late, great Stephen Hawking, and his influence on scientific thinking.
Reflecting on the experience, one student said: "We have learned new skills like editing, scriptwriting, presenting and producing, and using green screen technology. These where extremely useful in making this report successful, and can be used in other projects in the near future. Overall, we have been able to explore different ways of identifying, researching and presenting news."
Meanwhile, students at St Mark's Academy in Mitcham (pictured) focused on topics including career aspirations, student voices, and diversity. For their film Celebrating Multilingualism at St Mark's, the school's reporters interviewed fellow students and members of staff to capture the huge variety of different languages spoken by their school community as a celebration of St Mark's cultural diversity. Inspired by Mother Language Day (21 February), the video features Portuguese, French, Spanish, Greek, Polish, Italian, German and Twi speakers.
At Oxford Spires Academy, students conducted live interviews with experts in technology, film, and health and wellbeing for BBC Radio Oxford's breakfast show – impressing presenter Phil Mercer with the quality of their preparation and their confidence.
Later, the radio station broadcast an interview that students had recorded with a friend of the late Roger Bannister, sharing insights into the sporting legend after which one the school's houses is named.
The Oxford Spires School Reporters were supported throughout the day by Olga Smirnova, a producer and a correspondent for the BBC World Service, who was struck by the students' enthusiasm and diligence in preparing their stories.
See their work at www.oxfordspiresacademy.org/student/bbc-school-report/ and www.thespiresscoop.org/​
Watch the Deepings BBC School Report at www.deepingschool.org.uk/1339/bbc-school-report-2018
St Mark's film can be viewed at www.youtube.com/watch?v=7Y2eeP9Tqck&t=87s