Trust launches training for talented future leaders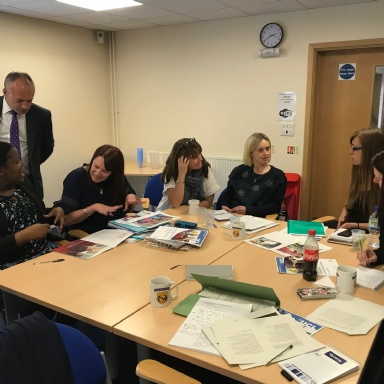 CST's National Professional Qualification (NPQ) programmes for school leaders got underway this month with our very first NPQH and NPQSL cohorts taking part in their inaugural training sessions.
The qualifications are offered to talented aspiring headteachers and senior leaders from CST's 16 schools, and are facilitated by Andy Yarrow, CEO, along with members of the Trust's Education Executive Team working in partnership with University College London's Institute of Education.
The programme kicked off on Wednesday, 2 May with seven colleagues attending a session for their NPQH at Judith Kerr Primary School in Herne Hill, South London. This first module was entitled Succeeding in Headship and explored the skills and character traits required for headteachers to be effective.
On Friday, 11 May it was the turn of the NPQSL cohort, as 18 of CST's finest made their way to the Conference Centre at Oxford Spires Academy for a two-day residential. Two modules were covered: Succeeding in Senior Leadership and Leading Teaching and Learning. The group were also treated to a leadership workshop led by inspirational guest speaker and leadership coach, Dr Neil Suggett CBE.
Feedback from the participants on both programmes has been overwhelmingly positive so far. Commenting on the launch, Andy Yarrow said: "These programmes are just the beginning of what will become a high-quality CPD programme for staff at all levels across the Trust over the coming year. We know that effective staff development is a vital part of our improvement journey, enabling us to recruit, retain and grow talented colleagues."