Meadow Park Academy celebrates Ofsted recognition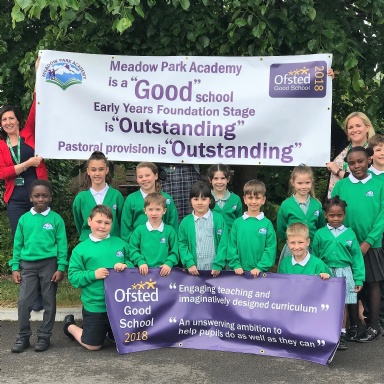 Meadow Park Academy in Reading has been praised by Ofsted for its transformation into a good and improving school with outstanding early years provision, just two years after being placed in the requires improvement category.
In its latest inspection report, Ofsted says children are thriving at the CST primary school because of its unswerving ambition to help pupils do as well as they can. "Leaders and governors, with the support of the academy trust, have effectively led improvements in teaching, learning and pupils' behaviour. As a result, pupils' progress has accelerated," the report says.
During their two-day visit on 18 and 19 April, the Ofsted team found that children have responded well to the high expectations of what they can achieve and are flourishing in the warm, supportive atmosphere of the school. The report says: "They have positive attitudes to learning because the teachers engage and motivate them and successfully encourage pupils to believe in themselves."
A more creative approach to teaching means pupils enjoy their lessons, make good progress and behave well. "Engaging teaching and an imaginatively designed curriculum have increased pupils' enjoyment of learning," the report says. "Pupils' positive attitudes are evident in their increased attendance rates."
Meadow Park's focus on making learning as enjoyable and inclusive as possible is also helping to close the achievement gap between different groups of children. Inspectors note that: "In recent years, there was a significant difference between the achievement of disadvantaged pupils and other pupils. This gap is now diminishing, due to well-targeted support, underpinned by pupils' increased motivation and self-belief. Pupils who have SEN and/or disabilities make good headway alongside their classmates due to effective support."
Provision for children in Reception is judged to be outstanding, with young children – many with low starting points – making excellent progress thanks to highly effective teaching and pastoral care. This is particularly valued by parents, the report observes: "Parents speak highly of the provision and how well their children thrive in Reception."
Ofsted praises Meadow Park headteacher Stieve Butler for driving the school's transformation, saying her inspirational leadership plays a pivotal role in sustaining the school's vision, expressed in its motto 'Where learning takes root and imagination takes flight'.
Ms Butler said: "I am thrilled that all the hard work of the staff has been recognised and that our children are now benefiting from learning within an environment rated as good and outstanding. This is the first time that this school has been judged good or better and we intend to keep improving on the quality of education offered to children and families."
CST Chief Executive Andy Yarrow said: "We are immensely proud of the transformation that has taken place at Meadow Park Academy over the past two years and delighted that the school's recent Ofsted inspection report recognises this.
"It is thanks to the hard work and determination of the school's leaders and staff that standards in the school are now higher than they have ever been. The school's ambition is to become a truly great school: one that is clearly now within their grasp."
Read the full report at http://www.meadowparkacademy.org/inspection-reports