St Mark's Academy scoops top accolade for values-based education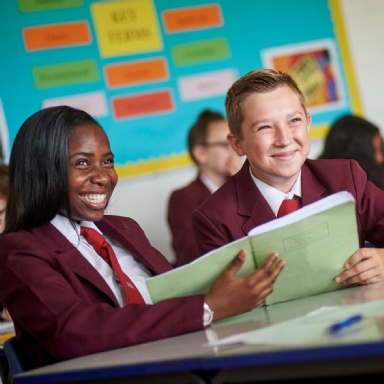 CST's St Mark's Academy in Mitcham, South London has become the first secondary school in the country to be awarded the Enhanced Valued-Based Education (VbE) Quality Mark.
The award was made following an audit by VbE consultant Sue Webb, who visited St Mark's last month to see how well the school was delivering the values-based vision of having 'universal, positive human values' underpinning all aspects of its work.
Reporting on her visit, Ms Webb said: "It was one of those days where one is astounded by the work happening in the school and you feel privileged to be able to spend a whole day celebrating the best in education. It is rare to write this in a report, but it is genuinely heartfelt.
"It was such a privilege to spend the day at St Mark's Church of England Academy and I unreservedly recommend awarding the school the Enhanced Values-based Education (VbE) Quality Mark.
"This is an outstanding example of a school where authentic values-driven leadership and whole-school community support have created a school where students and staff are nurtured and given every opportunity to flourish."
You can download the full report below.