Student speakers take centre stage at cross-Trust contest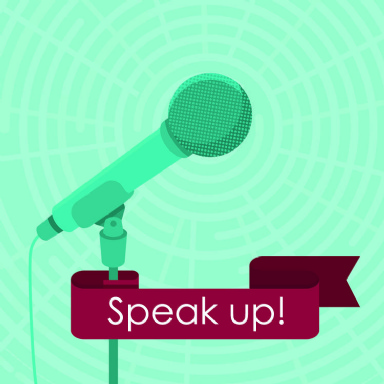 On Wednesday, 11 July, students from CST's five secondary schools put on a dazzling display of verbal dexterity at the Trust's inaugural public speaking and debating competition, Speak up!
Launched this year, the competition is designed to promote oracy in the Trust's schools and is the first inter-school contest of its kind to be run by CST.
From the stage of the gleaming auditorium at host venue St John's College, Oxford, teams competed in Key Stage groups for a chance to be crowned the first ever Speak up! champions by a panel of expert judges.
Topics covered in the Key Stage 3 teams' speeches included 'Paying 5p for plastic bags is never going to save the planet' and 'Is reading a book still important for young people?', while Key Stage 4 students considered, among other things, 'Have young people been betrayed by the older generation' and 'Could Britain's aid budget be better targeted?'.
S
ixth Formers debated the propositions 'This House believes that British voters have lost trust in parliamentary democracy', and 'This House believes that school is not preparing students for the employment of the future'.
It was a tough contest, with all the young speakers excelling themselves. However, after much deliberation, the judges awarded the top prize at both Key Stage 3 and 4 to Oxford Spires for their accomplished team performances. The Key Stage 3 team were Tende Amery, Dora Grandy and Harry Stilborn. Key Stage 4 was represented by Huma Khan, Daisy Stilborn and Buster Van Der Geest.
The Sixth Form prize went to Deepings duo Bethany Pearson and Jodie Wilson for their heartfelt defence of the value of schools in preparing young people for their futures.
CST Chief Executive Andy Yarrow said: "As a trust we are firmly committed to developing the confidence and character of our students. Public speaking and debating can make a significant contribution towards these and we are, therefore, keen to develop such skills further in our schools.
"The Speak up! event was a fantastic experience for all involved. The students really enjoyed meeting and learning from each other and were excited by the chance to spend the day at an Oxford University college. We are very grateful to St John's for their wonderful hospitality and for providing such an inspiring setting for our budding young orators."