Sixth Form stars shine on A level results day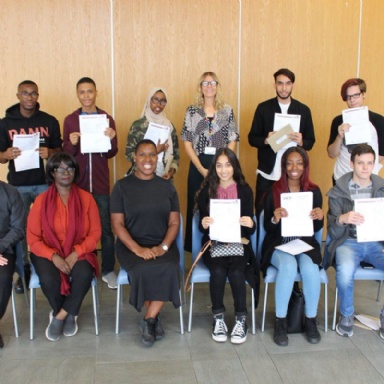 All the hard work and waiting has paid off for Year 13 students across CST secondary schools today as they collected an impressive set of A level and BTEC results that will see many going on to study at top universities or secure high-quality apprenticeships and employment. Overall, the Trust has seen an improvement of 8% in its pass rate for Key Stage 5.
St Mark's Academy is celebrating its best ever academic and vocational outcomes, with the percentage of students achieving an A*- C grade rising by 25% and a 98% pass rate in their qualifications. The school has also seen a dramatic increase in the Value Added (VA), or progress scores, across academic subjects. The majority of A level subjects are well above national average, with many securing a progress score that is half a grade higher than achieved nationally.
Headteacher Lisa Peterkin (pictured second left, bottom row, with students) said: "We would like to acknowledge our fabulous staff who have worked tirelessly to ensure that students are well prepared and equipped to sit rigorous, linear exams under new specifications. These outcomes are a testament to their hard work and dedication to ensuring that every child succeeds."
Oxford Spires Academy has also see significant improvements across the board. The percentage of A*-C grades achieved by Year 13 students has risen to 68% and over a third of A level entries were at A*-B. Once again, individual Year 13 students excelled and will now be able to progress onto their chosen university courses. Among them is Head Boy William Cheetham, who gained A grades in Mathematics and German and B grades in Further Maths and Physics and plans to read Biomedical Engineering at Imperial College London.
At Queensbury Academy, many students achieved highly, giving students the opportunity to access some of the best universities and high-quality apprenticeships locally and nationally. This year, approximately one third of A level grades were A*-B and a higher proportion of students gained A*-A grades.
Meanwhile, the Deepings School saw some 67% of students achieving A* to C grades, 33% per cent A*-B grades, and an overall pass rate of 97%. The majority of Year 13s will be going to their first choice university, including Durham, Bath, Loughborough and Nottingham, while a number of students will be starting apprenticeships over the next few weeks.
Commenting on the results, CST Chief Executive Andy Yarrow said: "I am delighted that our schools have shown significant improvements in A level attainment and progress measures this summer. Behind the headlines are the stories of many young people who have excelled academically and realised their potential, often against the odds. I am hugely grateful to the staff who have taught and supported our Sixth Form students and enabled them to achieve so well. I would like to pass on my warmest congratulations to our Year 13 cohort and best wishes for their future studies and training."