GCSE Results Day: class of 2018 look forward to bright futures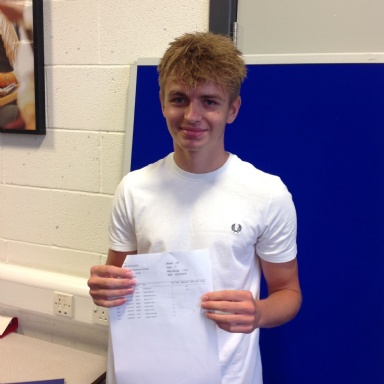 Year 11 students across CST's five secondary schools collected their GCSE results today, with many now looking forward to a positive start to their post-16 pathways on the back of their performance in this year's harder exams.
St Mark's Academy is once again celebrating exceptional outcomes with strong results in all subjects for students of all abilities and starting points. The school improved further on last year's excellent results, putting it in the top 10% in the country. Among those students achieving top grades are: Melanie, with grade 9s in English literature, RE and science; Gio and Mathusha with grade 9s in RE and science; Lola with grade 9s in RE and history; and Milena with grade 9 maths and science.
At Oakbank School, there were some incredible performances from twins Sabyasachi and Sourin Mitra, who between them secured eight of the highest grades possible at GCSE, and Eleanor Codling and Ella Munro who both achieved grades 7 and 8 across the board. Headteacher Maggie Segrove said: "I am delighted with our results this year, they are testament to the strength and expertise of our staff and the hard work of our students."
Oxford Spires Academy has seen another year of solid results, and a better than national average number of students achieving grade 9s in English, maths and science subjects. Stand-out individual successes include: Matty Clark with grade 9s in maths, chemistry and biology; Oscar Idle with grade 9s in maths, biology, physics and chemistry; and Ilona Sell with grade 9s in English language, religious studies and biology.
There have been improvements in the number of students passing English and maths at Queensbury Academy, with over two thirds of Year 11 students achieving at least a grade 4 pass in maths and nearly three quarters in English. Some of Queensbury's top performing students have also achieved some of the best results nationally, including Brandon Pratt and Charlotte Simpson, who both scooped an impressive seven grade 9s among their results.
An impressive clutch of the new 'gold standard' grade 9s were also in evidence at the Deepings School, notably from Alex McKean Forman (pictured) whose stellar achievement of eight grade 9s places him within the top 1,000 students in the country. Other high attainers include James Russell with seven grade 9s, Ellenor Garwell with four of the top grade and Katie Hand with three.
Headteacher Richard Lord said: "A huge amount of work and effort has gone into preparing for even more new style examinations this year and the manner in which students and staff have approached this challenge has been truly admirable."
Commenting on this year's results across the Trust, Chief Executive Andy Yarrow said: "Given the uncertainties at a national level regarding this summer's first set of results for the new and more rigorous GCSE specifications, I am delighted that two of our secondary schools have achieved their highest results ever, that overall levels of attainment have been maintained across the Trust and that so many of our students have met or exceeded their expectations. Congratulations to the staff and students who have made this possible and thank you for your hard work and determination."