Year 9 students get down to business in the Ryman National Enterprise Challenge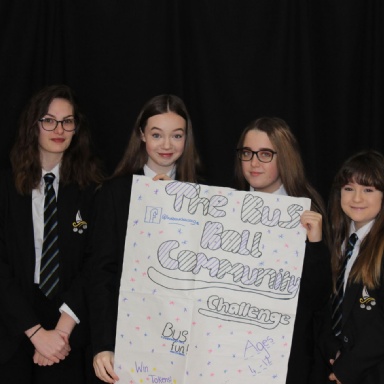 On Wednesday, 27 February, Year 9 students at The Deepings School took part in the Ryman National Enterprise Challenge to learn more about entrepreneurship and develop their key skills.
The Ryman National Enterprise Challenge is part of the Inspirational Learning Group, whose aim is to provide innovative and enterprising off-timetable events for schools, colleges and universities; engaging, inspiring and motivating students to be the best they can be.
The full day challenge sees students being set real-life business challenges that they work on throughout the day, before pitching their ideas for a chance to represent their school at the national finals event.
Working in groups of five, 50 teams at the Peterborough-based secondary school tackled the creation of a community event or competition to encourage more girls to participate in football. They were ably led by a team from the Inspirational Learning Group, who delivered some brilliant, interactive activities and offered guidance throughout the morning.
Teams had to produce an initial draft poster, branding, slogan and marketing ideas, together with an advert, ready for presentation. Students provided a great range of ideas and were very confident in their presentations. After much deliberation and discussion, a team was chosen from a shortlist of four to represent the school at the National Finals in July at Wembley Stadium.
The winning team were: Max Jacob, Imogen Baverstock, Michaela Rope, Alissa Scothern and Marissa Barbour.
Laura Hateley, lead presenter from Inspirational Learning Group, commented: "I was really impressed to see confidence growing throughout the morning, as teams who were a little apprehensive at first, rose to the challenge and delivered some superb ideas and completed all the tasks we set. It was also lovely to see how supportive everyone was towards the finalists."
Linda Taylor, Careers Lead & Events Manager at The Deepings School, said: "We would like to thank The Deepings Business Club who kindly co-sponsored our event. We are looking forward to mentoring the winning team to develop their ideas, and to seeing them in action at the National Finals later this year."