Oracy takes centre stage at Oxford Spires Academy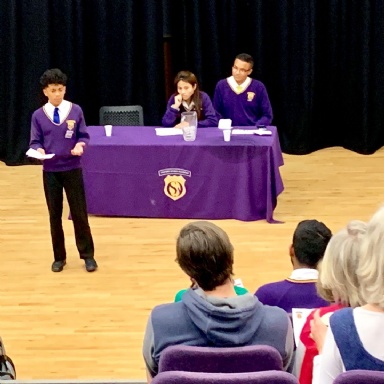 On Thursday, 9 May student speakers stepped up to the mike in front of an audience of fellow students, staff and parents for the annual Oxford Spires Academy House Public Speaking competition.
A key fixture in Oxford Spires' events calendar, the competition is part of the wider public speaking and debating life of the school and is a key part of selecting a team to represent Oxford Spires at the annual Trust-wide Speak Up! competition - being held this year on 10 July at Somerville College, Oxford.
With topics ranging from whether the police should be armed, to the future for feminism, to climate change, as always students addressed some very important topics in their speeches. They spoke persuasively and their arguments were well researched thanks to a little help from House research and speech writing teams behind the scenes.
In the Junior Competition, the winning House was Seacole, with prizes going to their Chair (Ruby Frizzell) and their Vote of Thanks (Skyla Woodhill). The winner of the best Speaker at this level was Zoha Asgher from Tolkien House.
In the Senior Competition, the main difference is that a speaker is hosted by another House and is questioned on their speech afterwards by the hosting Questioner and by the audience. The winning House this time was Earhart, with a prize going to their Chair (Summer Wells), who stepped into the position after a fellow student was ill on the day. The best Speaker at this level was Sami Asgher from Tolkien House and the best Questioner was Alex Dunn from Bannister.
The panel of judges, Dr Brian McMahon, Dr Jen Sugden and Dr James Marsden, all from Oxford University, were extremely impressed by the quality of the performances.
Congratulations to all the students taking part for standing up and presenting so articulately and confidently to a large audience. Miss Morris, Mr Archibald and Dr Watson will now deliberate on the team to represent Oxford Spires in July!