Blog: Research and the art of whole-school development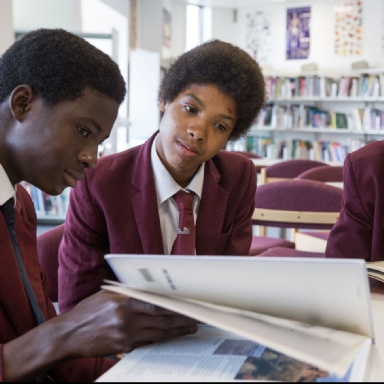 Hannah Fahey, Senior Vice Principal at St Mark's Academy, makes the case for research engagement as an important tool for improving learning at all levels.
One of the most rewarding aspects of my role involves leading a whole school action research programme. We are extremely proud of the fact that five years of research at St Mark's have been published, and would encourage all schools to engage in and with research to drive improvement.
Our school has been on an incredible journey since I joined in 2009 – and research lies at the heart of this change. Introduced in 2010, action research has had an incredible impact on the standard of teaching and learning at St Mark's, relationships between staff and students, and the quality of our continuing professional development (CPD) programme.
Benefits to the practitioner
There are three main benefits we have seen from our research programme. Firstly, engaging in practitioner research has encouraged our staff to be a more reflective; carefully taking time to examine the factors that shape learning. This reflection brings about a deeper understanding of the learning process, and an even more acute awareness of its complexities.
Secondly, teachers become masters of their own professional development by focusing research on aspects of practice that they want to improve. No course or training session could even come close to the powerful learning that takes place this way!
Finally, by combining research with reflection on practice, we are able to engage in a cycle of self-improvement. At St Mark's, this has filled staff with a renewed sense of purpose, high levels of autonomy and an enhanced sense of professionalism - while involving pupils within our research has had an invaluable impact on our understanding of their perspectives on learning. At middle leadership level, heads of department can pass these findings onto their teams.
Benefits to the school
It has been my experience that a whole-school commitment to research engagement brings whole-school benefits.
When practitioners generate their own knowledge and understanding of how to improve aspects of their practice through research, schools are placed in an invaluable position from which to drive professional development internally with minimal cost. Inset days and training can be led by the very people who know the institution and pupils best, making staff more receptive to the ideas presented.
This has helped to create a culture of improvement within our school, as it can be highly empowering for the teachers leading these sessions - particularly for those within early stages of their career. This year, for example, I have shared the learning gains from practitioner research with all three NQTs within my department in the knowledge that this will be hugely beneficial to their professional development, enhance learning across the department and enable them to lead CPD sessions during department meetings.
Everyone's a learner
My mantra is that as a teacher I am fully aware that I, along with my pupils, am constantly learning. The more committed
schools can be to engaging in and with research, the more they will be equipped to lead themselves to establishing or maintaining outstanding practice.
Research by staff and students at St Mark's Academy features in Research, Review, Report - published earlier this month by CST and Education Development Trust.