Benjamin Adlard Primary School celebrates Silver Teaching Award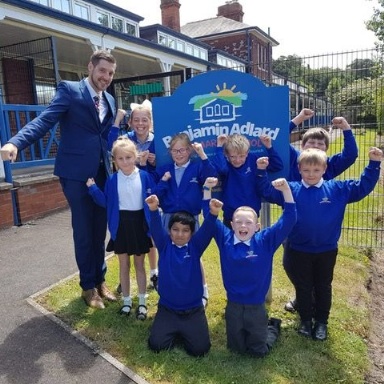 Benjamin Adlard Primary School in Gainsborough has scooped a Silver Teaching Award in the category School of the Year - 'Making a difference' supported by Future First.
Selected from thousands of nominations, Benjamin Adlard was one of just 65 winners celebrated on 'Thank A Teacher Day', 22 June, as the Pearson Teaching Awards mark their twentieth year of celebrating excellence in education. The Silver Award trophy was presented to Headteacher Sam Coy (pictured) at a special ceremony at the school.
The Pearson Teaching Awards are an annual celebration of exceptional teachers founded in 1998 by Lord Puttnam to recognise the life-changing impact an inspirational teacher can have on the lives of the young people they teach.
The team from Benjamin Adlard will now join fellow Silver Award winners, along with three Scottish Education Award winners and three winners of the Professional Teaching Awards Cymru, at a glittering ceremony held in central London on 21 October. There, they will find out which of them has won one of just 12 Gold Plato Awards, the UK's 'Oscars for Teachers.
The October ceremony, titled 'Britain's Classroom Heroes', will be filmed and broadcast by the BBC as a showcase of excellence in education. Previous award presenters have included former prime ministers David Cameron and Tony Blair, acting legends Jenny Agutter, Alison Steadman and Sheila Hancock, and sports and TV personalities including Shirley Ballas, Helen Glover, Brendan Cole and Nadiya Hussain.
Michael Morpurgo, celebrated author and former Children's laureate, and President of the Teaching Awards Trust, said: "The best we can do is to pass on to children all that we know and love and mean every word. I think above all else, a teacher should be a friend, and that's not an easy thing to do when there are 35 children out there. With these awards we are shining a light on these inspirational individuals whose efforts and commitment so often go uncelebrated."
Rod Bristow, President of Pearson UK, said: "It's an honour for Pearson to support these Awards each year - it's so vital to recognise and celebrate those in the teaching profession, for their commitment to education and for the impact they have on young people's lives."
Find out more about the scheme at www.teachingawards.com.