Benjamin Adlard wins Gold Teaching Award ​​​​​​​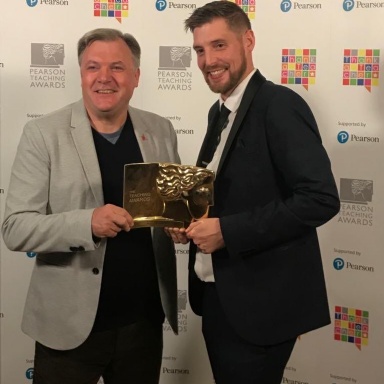 Benjamin Adlard Primary School has been named School of the Year – Making a Difference in the 20th annual Pearson Teaching Awards in recognition for its exceptional work in transforming the lives of children.
The Gainsborough-based CST primary school was one of 13 Gold winners honoured during a glittering awards ceremony in London yesterday evening hosted by BBC presenters Anita Rani and Sean Fletcher, alongside a host of other celebrities, including Ed Balls (pictured on the left, presenting the award to Headteacher Sam Coy, right), Liz Bonnin and Deborah Meaden. Winners were nominated for awards by pupils, parents and colleagues.
Benjamin Adlard's Gold Award recognises the school's place at the heart of its local community. In in an area of significant disadvantage, the school does all it can to amplify the voices of the children and the community it serves, providing an exceptional education in very challenging circumstances. It offers a free breakfast every morning, employs a full-time family support worker and has special mobility mentors who help new pupils integrate effectively and make rapid progress.
Moving from Special Measures to Good (the first good judgement the school has ever had) was just the beginning of Benjamin Adlard's journey – the school team now impacts the community in ways that no Ofsted inspection could ever measure.
Marie-Claire Bretherton, CST Primary Education Director for the East Midlands, said: "The real joy of wining this fantastic award will be seen in the faces of the children back at school after half-term, when they realise that their school is being celebrated right across the country for 'making a difference'. The impact of this award on them, on their aspirations and their hopes for the future is priceless.
"A huge thank you to the whole staff team, who work tirelessly to create a haven for this community, where children and families flourish."
CST Chief Executive Andy Yarrow said: I am delighted that the staff and pupils of Benjamin Adlard Primary School have won such a prestigious award. It is thoroughly well-deserved and an inspiration to our CST family of schools. Huge congratulations and thank you to all involved."
Watch Britain's Classroom Heroes this Sunday, 28 October on BBC2 at 6pm featuring highlights from last night's ceremony and a short film about each Gold winner, including Benjamin Adlard.